Release Notes
---
We are on a mission to make size selection confusion a thing of the past. There is no reason your shoppers should have to fidget with tape measures and a size table or evaluate their body shape vs. that of the clothing model. We developed Fit Advisor to completely remove this confusion so shoppers can exclusively focus on your brand. We will never stop innovating towards that cause.
We are continually taking in feedback from our customers, prospects and end-users, then integrating that feedback into the WAIR product roadmap. In the release notes below you will see the evolution of the best size and fit recommendation solution available today.
---
February 2021 | Fit Advisor 3.6.0
Released on Feb 3rd, 2021
We spent the better part of January collecting customer and user feedback to create a more compelling Fit Advisor experience. Designed to delight your shoppers and continually improve your core performance metrics.
Intuitive fit preference
We cleaned up the UX for the Fit Advisor recommendation screen to allow shoppers to navigate to alternate sizes based on their unique fit preference.
We received consistent feedback that a "Fit Preference" screen was confusing and therefore causing friction in the shopper journey. By removing the "Fit Preference" screen and allowing shoppers to see how alternative sizes fit their bodies, we provide confidence in size selection to include fit preference.
Optimized mobile experience
We've created optimized input forms and recommendation screens for both mobile and desktop shopping experiences. The desktop flow takes advantage of the keyboard, where the mobile flow is much more intuitive. Here are the improvements in the new version:
Improved layout for recommendation results on small screens
No more mobile keyboard. Touch-screen friendly sliders for input data.
Less web data used (smaller bundle and asset files)
Faster load times
We want your shoppers to get their size recommendations with the least friction possible and we know performance matters.
Optimized backend to load Find my Fit button and Inline recommendation placements noticeably faster
Improved load times for UI for an overall faster flow to get a recommendation
---
January 2021 | Fit Advisor 3.5.0
Released on Jan 13th, 2020
Overview and Main Purpose
Enable a mobile first experience to further increase completion percentage
Reduce the onboarding time for new customers to days, not weeks
Reduce the time needed for current customers to launch new products with our service
What's New
End User Experience:

Introduction Screen is now present, which provides an overview of the experience for the shopper.
Height, weight, and age inputs are all slide enabled vs. text entry fields. This allows shoppers to complete without the need for a popup keyboard
The recommendation screen clearly tells the shopper the best fitting size

It also lets the shopper flip to alternative sizes to choose the best fitting size as it aligns with their fit preferences

Improved styling on the inline recommendations

Onboarding Experience:

Our customers can now integrate and validate size recommendations at the same time they are integrating the Fit Advisor plugin into their e-commerce store

This change is anticipated to shorten the onboarding process from a few weeks to 1-2 days for most customers and increase the size recommendation accuracy even further

Performance Improvements:

Improved load time performance on mobile and desktop
December 2020 | Fit Advisor 3.4.0
Released on Dec 3rd, 2020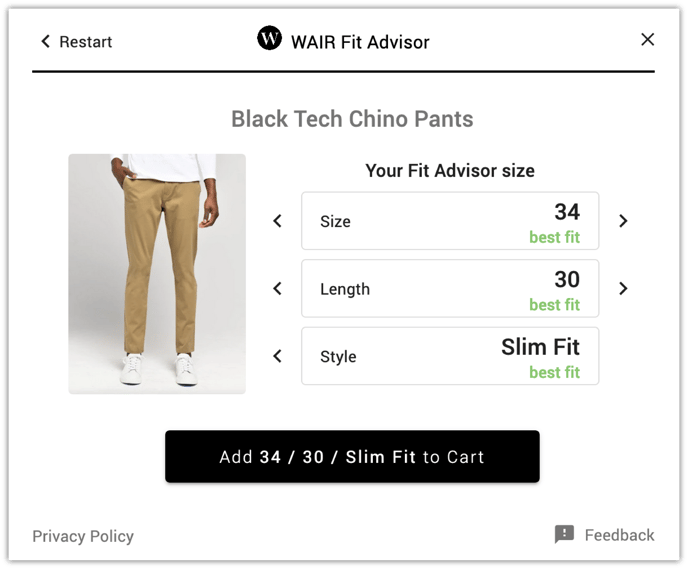 Overview and Main Purpose
Organize admin software to allow for multi-vendor retailers and enterprise customers
Provide better customer dashboard with advanced analytics

Evaluate the success of the integration
Learn about usage patterns
Learn about body shapes of Fit Advisor users on customer store

Enable multi-variant size recommendation
What's New
Better backend management of large product catalogs

Allows us to ensure proper mapping of size specification to product

Better backend management of multi-vendor product catalogs

Allows WAIR to work with multi-vendor retailers

Optimized onboarding to reduce customer effort and reduce overall onboarding time
New multi-variant size recommendation

Many brands allow for multiple variants during size selection like waist and inseam or size and sleeve length. This new feature allows the WAIR Fit Advisor to recommend the best fitting size in multiple variants to fully complete the size recommendation experience.
---
November 2020 | Fit Advisor 3.2.0
Released on Nov 4th, 2020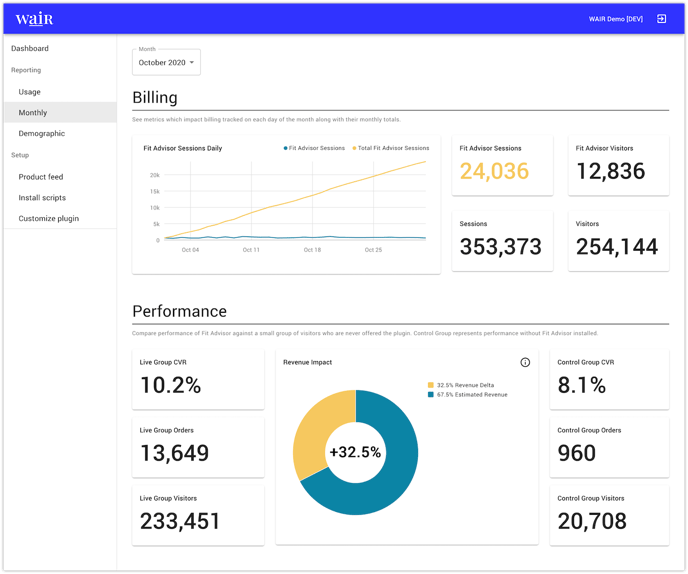 What's New
Monthly reports with contextual control data
Demographic reports
[Beta] Multi-option recommendations and revamped results view
Improvements
Additional refinements to Usage report
Fix plugin customization preview
Adjust onboarding steps for intuitive flow
---
October 2020 | Fit Advisor 3.1.0
Released on Oct 8th, 2020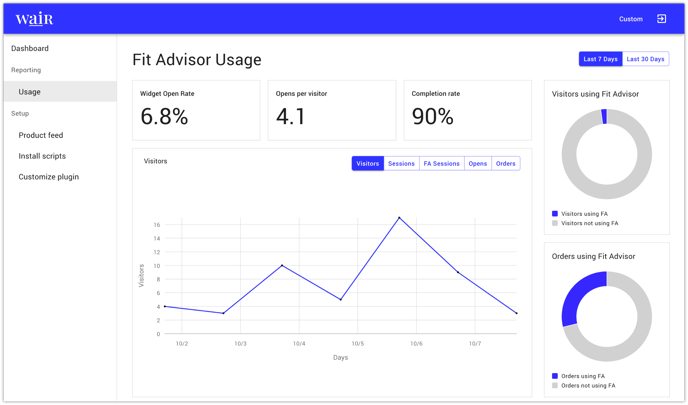 What's New
Rebrand BodyBlock Recommend to WAIR Fit Advisor
Fit Advisor usage reporting view
Improvements
More intuitive onboarding flow
---
September 2020 | Fit Advisor 3.0.0
Released on Sep 2nd, 2020
Overview and Main Purpose
Enable Inline size recommendations for higher conversions
Allow for advanced UX configuration for more customization
Launch robust analytics
What's New
Inline Recommendations

The BodyBlock Recommend technology predicts the dimensions of the shopper's body and then recommends the size of any product on the customer's e-commerce store. Prior to this release, the shopper used to have to open the plugin to review his/her sizes, which was not idea. This release allowed BodyBlock to always show the shopper their size right from the product page, without forcing the shopper to launch the plugin each time.

Advanced UX Configuration

Each customer has access to their administration dashboard. This allows them to make real time changes to the look and feel as well as the call to action (CTA) of the BodyBlock Recommend plugin on their e-commerce store.

Robust Analytics

Prior to this, we tracked the conversion rate of shoppers that used the widget vs. those that don't. We didn't like this as a conversion metric because those that click a "Find My Fit" button have more intent to purchase than those that do not… so the data is less meaningful. We changed the tracking to create two cohorts. The "Control" cohort never sees the "Find My Fit" button, while the "Live" Cohort does. We then track the conversion differences between the two cohorts to more clearly understand the effect that the BodyBlock Recommend plugin has on site conversion. Good news… we see a 25% increase in conversion percentage of the Live cohort vs. the Control. 😉
---
August 2020 | Fit Advisor 2.10.0
Released on Aug 14th, 2020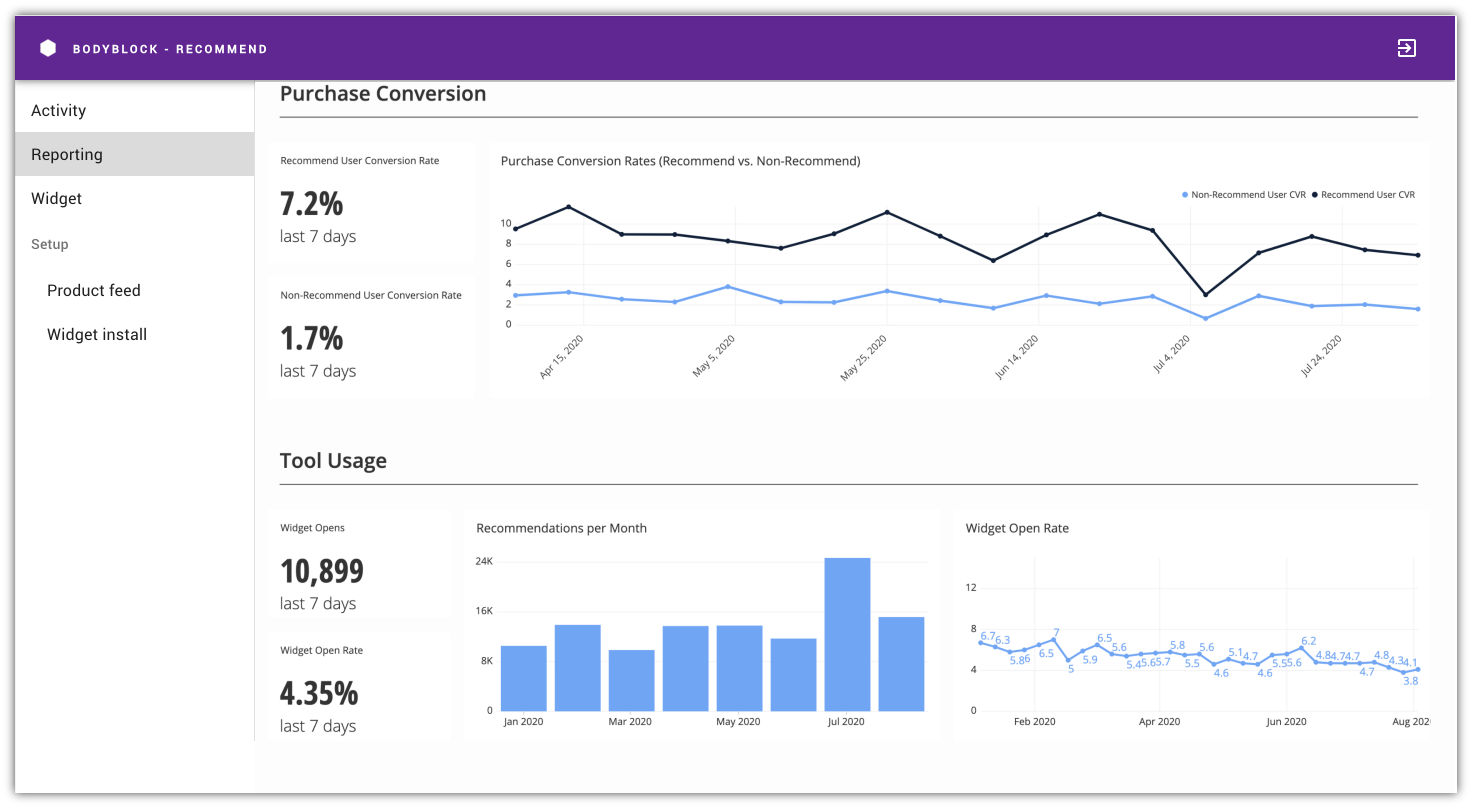 What's New
Analytics Dashboard. Track engagement and order conversion metrics for the Recommend widget.
Improvements
Fixes on results screen for unwanted text wrapping
Streamlined Checkout script to reduce request load
---
July 2020 | Fit Advisor 2.9.0
Released on July 22, 2020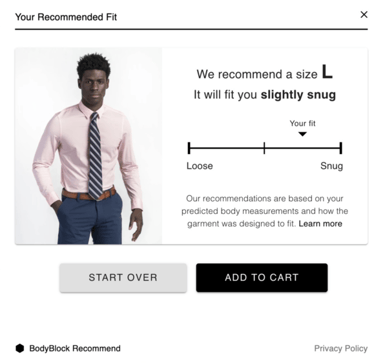 What's New
Redesigned recommendation screen. More intuitive size recommendations, happier shoppers, higher conversion.
Improvements
Optimized script performance by reducing number of scripts loaded for both widget and checkout scripts
Improve brand user id configuration. Use your own user identifier for better traceability of recommendations back to your shoppers
---
June 2020 | Fit Advisor 2.8.0
Released on July 1, 2020

What's New
BigCommerce integration. Easy setup with same Recommend experience for shoppers.
Improvements
Better hooks for integrating custom frontends / single page apps
---
May 2020 | Fit Advisor 2.7.0
Released on June 10th, 2020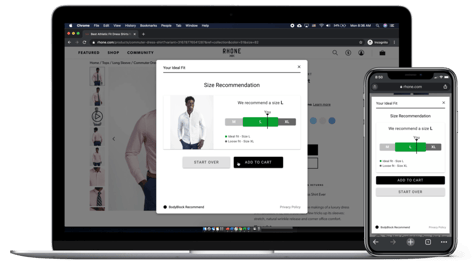 What's New
Omni-channel recommendations. Shoppers complete the recommendation flow once and receive recommendations across devices.
Enable "Add to Cart" button directly from recommendation page
---
March 2020 | Fit Advisor 2.0.0
Released on March 10th, 2020
Overview and Main Purpose
Replace actual 3D scanned body segments with size appropriate illustrations
Allows shopper to set preference per product
Allows shopper to understand how the product will fit his / her body
What's New
We wanted a more inviting quiz experience and to show less actual 3D body data, so transitioned to illustrations. Prior to this transition, we ensured that the illustrations provided as much, if not more, accuracy than using the 3D body segments as inputs.
We wanted to integrate fit preference into the process to ensure that we took the preference of the consumer into account
We created a simple slider to show users how a product would fit their bodies.

IE. right side of the slider, a bit snug; left side of the slider, a bit loose; middle of the slider, as designer intended
---
Fit Advisor – Beta
What's New
Integrate alpha version into a product plugin

Shoppers enter height, weight, age, gender

Onboard beta customer to ingest clothing sizing specifications
Deploy product on beta site to evaluate:

End-user use and completion rate
End-user conversion and size selection confidence
---
Fit Advisor – Alpha
What's New
Develop quiz based body prediction technology
Have consumers that took real 3D body scans run through Fit Prediction quiz

Shoppers enter height, weight, age, gender.
Shopper shown body segments of users with similar height, weight, age, gender to select from

Develop machine learning layer to predict the body dimensions of the end-user
Compare the end-user body measurement predictions with the body measurements captured from their 3D body scan to evaluate accuracy

Accuracy of most primary measurements used for clothing fitting of < 1 inch: Success

Also test for willingness to complete quiz

Completion rates neared 90%: Success